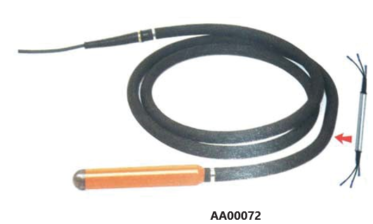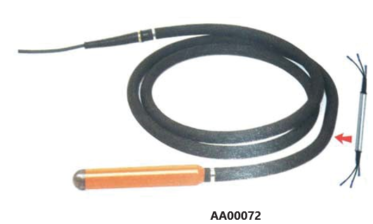 HIGH FREQUENCY VIBRATOR
BRAND:
Description

THERMIC PROTECTION
The thermic protection of the VAF T model provides the automatic disconnection of the vibrator when the needle rises over approx. 120˚c max temperature with partial immer- sion in concrete, avoiding a burnt stator. To restore the activity, you only need to plunge the vibrating needle into cold water for a few minutes. The system operates also when one or more phases are damaged.
MERCURY SWITCH
The mercury switch is arranged inside the operating pipe, 50 cm from the needle; holding this part sloped by approx. 15÷20 degrees, you'll start the needle and holding the part of the pipe-switch horizontally, the needle stops.
VULCANIZED TAP
Recommended for casting in wooden panels, to prevent damaged panels. Available for VAF and VAF T needles, for 58mm max diameter.
BY REQUEST, ALSO 250 V VIBRATORS FOR USE WITH CONVERTERS/GENERATORS AT 250 V OUTLET AVAILABLE.