Description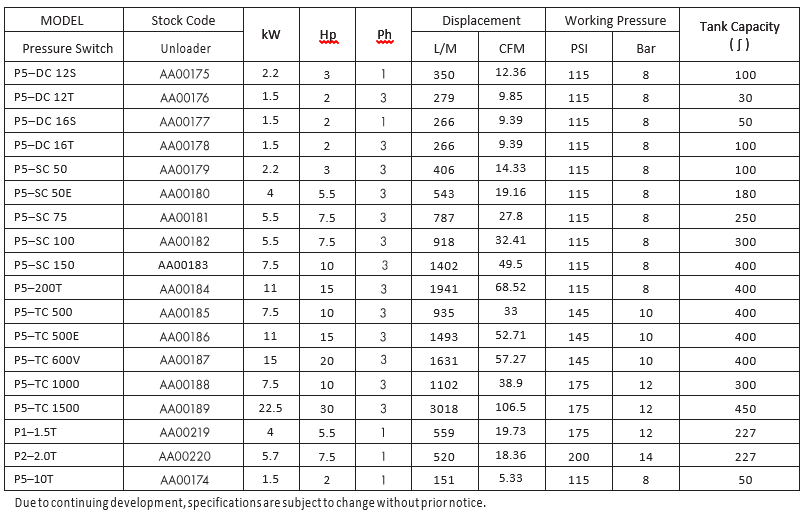 Top Quality Air Compressors in Singapore
Used throughout a wide range of industries from manufacturing plants to even gas stations, an air compressor is a pneumatic device that increases the pressure of compressible gases. Typically categorised according to its functional methods, air compressors are available in a wide variety – reciprocating, rotary screw and centrifugal compressors. Its basic function is to convert electrical energy into kinetic energy that powers other handy tools in a workshop.
Applications of Air Compressors
From construction to chemical industries, air compressors are an indispensable equipment due to their versatility in powering several pneumatic tools. Offering industrial-grade compressors, options available at Allinton doubles as a reliable power source. Designed to provide a constant flow of compressed air for extended periods of time and built with top-grade components, you can rest assured of energy efficiency and reliability.
With models delivering power of up to 30 HP and capable of taking up close to 110 cubic feet per minute of intake air, its accompanying large gallon-sized tank capacity, an ideal air output for proper performance is guaranteed.
Custom Designed to Serve Your Needs
Each of our compressors at Allinton offers custom-designed solutions based on your specific business needs to achieve your project goals. Choosing any of our smaller options will give you the added benefit of portability and on-demand air whenever you need it. Being a trusted supplier for air compressors and a range of other products in Singapore, we have years of experience backing the reliability of our products.
Browse Our Selection of Compressors
Though these compressors make it easier to complete your tasks, not all are built the same and do not serve the same purpose. Understanding the varying needs of each industry and task at hand, we offer a wide selection of air compressors online in Singapore. From oil-free compressors to large rotary ones, we also offer services that cater to your specific business needs.
For more information about our products, feel free to reach out to our product specialists.