Description
AET 2000 Chemical Coverall meets the following European Standards

AET2000 Chemical Coverall has been specifically designed for those working in warm climates or warm working environments to help to reduce heat stress.
Features
AET2000 Chemical Coverall helps to keep you safe and comfortable in environments where low hazard liquids and/or particulates are present.
• Combines a NEW lightweight Microporous fabric with a high wicking and breathable back panel for moisture management and breathability that is unsurpassed.
• Microporous film laminate fabric and bound seams ensure a high level of liquid protection. The SMS back panel aids airflow around the wearer without compromising the protection level.
Applications
• Automotive paint spray / Ship building & Automobile manufacture
• Low level liquid chemical spray / Oil & Gas manufacturers
• Low hazard emergency response
• Maintenance / Cleaning, Chemical, Mechanical & Electric
• Insulation / Fiberglass product manufacturers
• Agriculture I Pest control / Health
• Food, Pharmaceutical industry/ Clean-room / Beauty
• Transport / Packing
Specifications
Stock Code: AM01053 – L, AM01054 -XL
Made from microporous film
Laminate lightweight at 65 gsm
White colour
Certification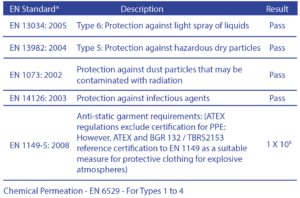 What is a Chemical Suit
Providing staff with chemical protective suits is mandatory in many service and manufacturing industries, especially in fields where employees are exposed to hazardous materials. As a matter of fact, in countries like Singapore, employers must provide their employees with personal protective equipment such as a disposable suit with hoods if they are working in such dangerous conditions to ensure that they are being safely covered and not dangerously exposed.
As mentioned above, chemical suits are specially designed personal protective equipment that protects individuals against dangerous substances, regardless of whether they are in liquid or gaseous form. And as its name suggests, disposable suits with hoods are a more versatile, affordable, and comfortable alternative that also provides full-body protection, allowing you to complete your duties safely.
Benefits of Using a Disposable Suit with Hood
Most, if not all, protective suits are created to provide high levels of protection when working with chemical, biological, mechanical, thermal, electromagnetic and electrical hazards. The same applies to disposable suits as well. The additional benefit of using a disposable suit with a hood lies in the fact that it takes the guesswork out of whether the protective garment is still effective or not. This is because, if the chemical barrier of a standard chemical suit is exposed to contaminants like a chemical drip, the suit will have to be removed and it will be deemed unusable, and must be disposed of properly. Disposable suits, however, are meant to be used once with or without incident.
Shop for Disposable Suits with Hoods at Allinton
Beyond an extensive selection of personal protective equipment, we also distribute quality hardware and engineering tools like battery torque wrenches and other products. Setting the standard in hardware distribution and superior services, Allinton is your one-stop shop for all your hardware and industrial needs — work with us today.
Frequently Asked Questions About Chemical Suits
1. What is the use of a chemical suit?
Commonly used in the chemistry, industrial maintenance, construction, pharmaceutical, waste management, and industrial cleaning industries, and more, a chemical suit is a tight coverall designed to protect the user from chemicals, particles and other hazardous materials. Since these chemical, physical, and biological hazards are often invisible to the naked eye and have no warning properties, the chemical suit provides some much-needed protection against each of these hazards.
2. How do you wear a chemical suit?
In countries like Singapore merely providing personal protective equipment such as a disposable suit with hoods will not suffice as employers are also required to train each worker on how to properly use their PPEs. In general, before putting on the chemical suit, you will have to check for open seams, and if there are any other defects that will impact the suit's protective function. Thereafter, you will have to remove all jewellery and accessories, and put on the suit before checking for freedom of movement.
3. How long do chemical suits last for?
This depends on whether the suit has been contaminated. For example, while reusable suits can be worn multiple times, they must be properly decontaminated and re-tested after chemical exposure to test if it has not lost its ability to protect, before being used again. Disposable suits do come in models with a longer shelf life and will have to be discarded once they have been contaminated.